Dr. Sketchy's Augusta
•

Augusta

•

.(JavaScript must be enabled to view this email address)

•

Venue: 1102 Bar and Grill on Broad Street
---
Burlesque Life Drawing Comes to Augusta!
When many artists think "life drawing," they think of sterile rooms, bad lighting, and bored, silent, models with nary a hint of personality. Dr. Sketchy's Anti-Art School is here to change all that.
Dr. Sketchy's Anti-Art School is the little New York art event that became a movement. Started in 2005 by artist Molly Crabapple, the concept is simple. Artist's draw glamorous burlesque dancers, compete in contests, and win wacky prizes. From it's humble Brooklyn beginnings, Dr. Sketchy's now has over 100 branches around the globe, including Los Angeles, London, Rome, Tokyo, and Melbourne.
Now, Miopuma is bringing Dr. Sketchy's to the Downtown area. The monthly sessions will feature burlesque babes, roller derby girls, drag queens and fetish models, along with contests, prizes and alcohol galore.
Since it's inception in 2005, Dr. Sketchy's has received coverage from the likes of The LA Times, The Washington Post, BBC Radio, NPR, The Village Voice, WNBC, Time Out London, and The New York Times.
Web Link: http://www.drsketchy.com (Founding branch)
http://www.drsketchy.com/branch/augusta
Contact Information
Miopuma
Phone: 917 651 4656
Email: .(JavaScript must be enabled to view this email address)
http://www.septemberaesthetics.blogspot.com
http://www.etsy.com/shop/miopumashop
Schedule of Upcoming events
RSS
NYC Events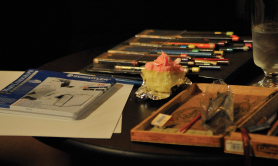 Art Tumblr
https://vimeo.com/81362468