They just gave us
a pretty spiffy write-up!
This coming year we've got some more big events planned, so stay tuned for not only regular nights at the Clermont, but several special events in some spiffy secret locations! (say that 10 times fast!)
Dr Sketchy's was great fun, can't wait till January. Here are some photos courtesy
Elizabeth Bee!
Thanks to
Baby Tattoo Books
for the prize!
And that's it for 2010! We can't wait till January, you won't believe what Lisa and I are cooking up next...
The holidays have you stressed out? We have the answer... 3 hours of creative freedom, hot models, a stocked bar, silly games and cookies! Join us for our last event of the year, in true Dr Sketchy's style. Yes, we're back at the infamous Clermont Lounge with the lovely Robin for...
Read Full Article
We're back at the Clermont Lounge Monday December 13th for a little Cabaret. Stay tuned for details!
RSS
NYC Events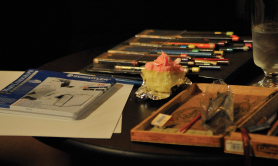 Art Tumblr