Branch Blog - Brighton, UK
We did it! Our first Dr. Sketchy Brighton event went off without a hitch and everyone had a fantastic time.Naughty skool grrlz (from left) Gil Cohen, Holly Ray and Jen-the-Roo . . .
gave their hilarious Headmistress Cresswell a run for his money with their bad grrl attitudes and saucy...
Read Full Article
He's one-of-a-kind, handsome, debonaire, oh-so-Brighton . . . and could be all YOURS! Come to our inaugural Back to Skool show tomorrow and win this handmade art doll -- or several other "art4art" prizes!
cookiechang blog
Last chance to get your advance tickets!
BUY TODAY!
Join Dr. Sketchy Brighton for a rousing Dia de los Muertos (Day of the Dead) sketch-a-thon! Did someone say "hula hooping skeleton?" You'll have to be there to see for yourself . . . Undertaker Cresswell helps us in our hour of need and guides us through the afterlife. With Chi Chi...
Read Full Article
Sharing some skool photos...
Then cookie chang 'splains just where these naughty skool grrlz came from:
cookie chang blog
RSS
NYC Events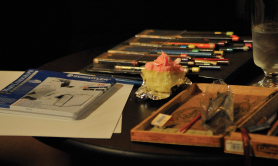 Art Tumblr