Branch Blog - Cleveland Ohio
We are back to our old start time this round folks! Doors at 7:30 Model at 8!! We have a great night in store for you!! A tribute to Miss Annie Jones.. the bearded Lady... Featuring our newest star BC!!! She posted for us at the Ingenuity Fest and we just had to have her back for a full...
Read Full Article
Well, The Duo that bring the noise that is Dr. Sketchy Cleveland Put up a Big white room called the Doodle Bar this last weekend at Cleveland's Ingenuity Fest. It was... WAS a big white room decorated and furnished with all white stuff, and we left it to cleveland to draw all over it,...
Read Full Article
We had a great event last week! The ladies of Harptallica were so RAD, it hurt! they rocked the stage as models, the tore it up with their blistering Metallica covers on harp!!
RSS
NYC Events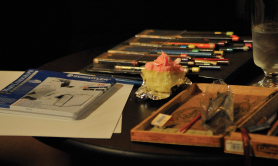 Art Tumblr