Another staggering night put together by the fabulous Fondant Fancy. Where else could you be at the mercy of an axe-wielding nurse and have your ship upturned by the naughtiest sailor girl… all in one night?
Sketchers were required to work their way under ground this month, into...
Read Full Article
There was glitter, knickers and flesh galore at Dr. Sketchy's Falmouth's opening night...
The Great Cake Escape
's Fondant Fancy escorted a sea of sketchers through an evening of nautical naughtiness, 007 delights and smouldering strip-tease thanks to performances from Cherry...
Read Full Article
RSS
NYC Events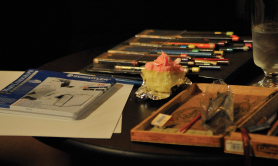 Art Tumblr
Dr Sketchy's LA 12/3/13 (pt. 1)
artofach.blogspot.com
http://drsketchy.tumblr.com/post/69132640329