Branch Blog - Kansas City
An evening of dangerous delights with Violet Vendetta. She'll be breaking hearts with her surly charm, a dangerous dame with a score to settle. Bring your drawing supplies and a prepare to be enchanted.
Sept. 3rd we are hosting the 2nd annual Dr. Sketchy anti-art show KCMO. Come join us at the Czar Bar for the opening with special guests and former models Shirley Mona Foxy Von Trap Eartha Delights Hot Hot Heather Violet Vendetta Artemus Vulgrais Annie Cherry Louise Lemans and special...
Read Full Article
RSS
NYC Events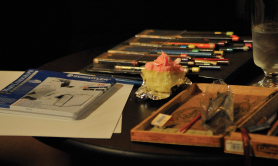 Art Tumblr
https://vimeo.com/81362468