Branch Blog - Lethbridge, Alberta
Check out this little teaser video for the upcoming Historic Life & Landscape Drawing Tour in the Crowsnest Pass! Meet
Rocky, the Dude!
As promised, we are taking Dr. Sketchy's on the road!
This month Dr. Sketchy's Lethbridge is traveling into the Crowsnest Pass to experience the performance art hilarity of Frankie Slide and Rocky Rock. To track their adventures and prepare your mind follow them on myblairmore.com...Read Full Article
Alas, it is summer in Lethbridge and the annual exodus for places unknown has occurred. I've always had mixed feeling about this. I like the emptiness of the city but miss the mix of interesting people. For this reason, Dr. Sketchy's: Lethbridge is giving their selves a little spa...
Read Full Article
RSS
NYC Events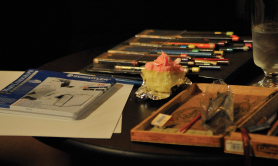 Art Tumblr