Branch Blog - Los Angeles, CA
We'll be holding a special FREE session of Dr. Sketchy's Anti-Art School during Los Angeles Fashion Week at "Fun While It Lasted!" The FREE session will take place on Saturday, October 16 from 2-5 at 1106 Mohawk St. (corner of Sunset), Echo Park. There will be over 20 fashion...
Read Full Article
Hello everyone, and welcome to the new hub of Dr. Sketchy's LA. We will be updating this site to provide the most recent information on upcoming sessions, with the option to purchase discount tickets online in advance through PayPal. Also, make sure to frequent our photo and video page...
Read Full Article
RSS
NYC Events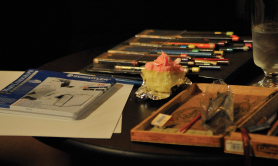 Art Tumblr
Dr Sketchy's LA 12/3/13 (pt. 1)
artofach.blogspot.com
http://drsketchy.tumblr.com/post/69132640329