Thanks to all the Art-monkeys old and new who helped us to have an a successful session at the Philadelphia Museum of Art on Friday!
We were invited to host a session at the museum's Art After Five series and there were several hundred people in attendance. The theme was Renoir and...
Read Full Article
Hi and welcome to the new Dr. Sketchy's Website, Philly branch. We've been quiet this summer, but we're about to make some noise. First, we're having a special Dr. Sketchy's Philly session at one of the world's finest art museum's with one of the world's largest art collections, the...
Read Full Article
RSS
NYC Events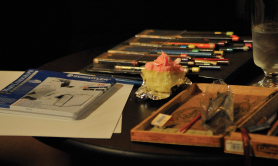 Art Tumblr
Dr Sketchy's LA 12/3/13 (pt. 1)
artofach.blogspot.com
http://drsketchy.tumblr.com/post/69132640329