Branch Blog - St. Louis, Missouri
You will be seduced and impaled by the Future with our guests the sexy Madame Fortune and the wily Vlad. Check your pockets and your soul.
Sunday May 22
Van Ella Studios
2646 Cherokee St. Louis, MO 63118
7-10pm Doors : 6:30 $8
314.865.0819
[email protected]
Last night the fabulous Ray Gunn from Chicago and sultry Michelle Mynx from Gravity Plays Favorites graced Van Ella Studios for an evening of Steampunk Drawing and Easter Egg Hunt debauchery! Check out our
awesome photo gallery
Photos by Crystal Rolfe. Additional photos and artwork can...
Read Full Article
RSS
NYC Events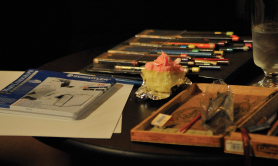 Art Tumblr
https://vimeo.com/81362468