Branch Blog - San Francisco, CA
Right, and so last week this happened:
And this
And there's more
And we kind of lost our shit. See more photos here.
Dr Sketchy's Anti-Art School: San Francisco
***
I am so very pleased to present our book! It contains 40 pages filled with Johnny Crash's signature photos of the finest Dr Sketchy's SF moments from the past year.
Read Full Article
Bunny Pistol is a San Francisco burlesque performer, the producer of Barbary Coast Burlesque, and she rocked our world as Darth Vader in our Star Wars event. This lady is not to be missed!
Draw with us tonight from 7-10pm @ 111 Minna Gallery, 111 Minna St, SF
21+ $12 general...
Read Full Article
RSS
NYC Events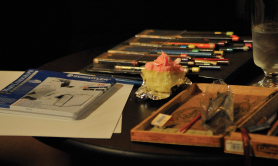 Art Tumblr