Branch Blog - Asbury Park, NJ
Come sketch for a cause as we have our second annual charity event for Animal Birth Control...June 21st 6pm at the Asbury Lanes..
Come to

The ShowRoom

707 Cookman Avenue, Asbury Park
As we have our Gruff detective and some leggy dames pose for your sketching pleasure. This will be held in the new showroom movie theater.$15 cover byob and no pastels or messy art supplies please..
Model Ra'idisha
...
Read Full Article
Come Sketch, Draw, paint, take pictures in our photo area, drink and have some tater tots at the Asbury Lanes on September 6th from 6:30 on $15 cover 3-4 models dressed as sassy superheros! Photo by Jeff Wickliffe Model Krissy Kelly
!
Come hang, drink, and draw at the Asbury Lanes April 28th from 3-6ish as we salute classic pin up artist Gil Elvgren and recreate some of the classic Pin up poses! $15 cover live Rockabilly music by Fast Clare! and burlesque performance by Lily Stiches! Come hang back at our home base!
...
Read Full Article
RSS
NYC Events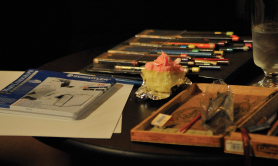 Art Tumblr
Dr Sketchy's LA 12/3/13 (pt. 1)
artofach.blogspot.com
http://drsketchy.tumblr.com/post/69132640329