Branch Blog - Dr. Sketchy's HQ
This Saturday, August 14th, from 2-4pm the Dr. Sketchy's NYC group will be at the
Brooklyn Museum
putting on a very special life drawing class!
Featuring models Dame Cuchifrita and Delysia La Chatte, we will be doing a tribute to Andy Warhol, dressed as Warhol superstars. Our event has...
Read Full Article
We here at Dr. Sketchy's HQ want to give a shoutout to our long time loyal sponsor,
Whitelines®
, purveyor of the best sketch books in the world.
Model Manko, with artist Paigey! and Whitelines® Whitelines® is a Sweden-based company that has been providing Dr. Sketchy's branches...
Read Full Article
RSS
NYC Events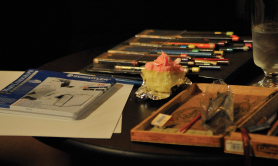 Art Tumblr
Dr Sketchy's LA 12/3/13 (pt. 1)
artofach.blogspot.com
http://drsketchy.tumblr.com/post/69132640329