Branch Blog - Las Vegas, NV
Our August Session in Las Vegas. Hope to see you there!
Sexy Sketching by April Corbin Mon, Jun 7, 2010 (12:50 p.m.) Dames, drawing, drinking and debauchery. The four Ds of Dr. Sketchy's Anti-Art School are easy to spot. Drinks, especially sangria, flow naturally at Firefly inside the Plaza Hotel. The dame in question is local burlesque...
Read Full Article
Anti-Art School
By AMANDA LLEWELLYN VIEW STAFF WRITER
F. ANDREW TAYLOR/VIEWContortionist Stephanie Castellone poses for artists during the April Dr. Sketchy?s Anti-Art School life drawing session. The sessions are offered the third Tuesday of each month at Dino?s...
Read Full Article
RSS
NYC Events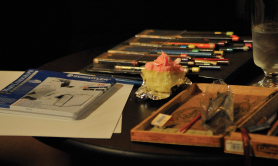 Art Tumblr
https://vimeo.com/81362468