Branch Blog - New Haven, CT
Big things are in the making this fall as Dr. Sketchy's New Haven welcomes Dot Mitzvah as its newest Headmistress!
Dot comes to us as a veteran model, compère, helper monkey, and all-around great gal with plans to bring Dr. Sketchy's New Haven to a whole different level!
Stay...
Read Full Article
Dr. Sketchy is back in New Haven after a brief hiatus with a new headmistress! Angie Chambers has taken over the New Haven chapter and is starting off the year rolling. January 30th at Cafe Nine - Mermaid Wonderland with Jenna Pettit February27th at Cafe Nine - Siamese Spectacle with...
Read Full Article
RSS
NYC Events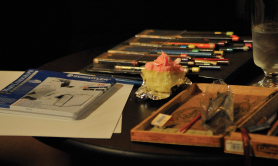 Art Tumblr