Branch Blog - Philippines

Click to view larger image.
SUBMISSION GUIDELINES
- Pick your the best sketch from the sketch mob. - Scan the original sketch or take a photo of it. - Upload this to the
Dr. Sketchy's Anti-Art School Manila Facebook Page
wall and tag yourself, or email your sketch to Mike Acosta...
Read Full Article
We've found a home. Yes indeedy.
- Frederick Franck, The Awakened Eye
With the recent acquisition of the rights and license to open up a Dr. Sketchy branch in Manila, we hope you can help us spread the word and give Dr. Sketchy's its very own Filipino flavor. How does it fit in to our local art scenario? For years and years, little or no attention has...
Read Full Article
RSS
NYC Events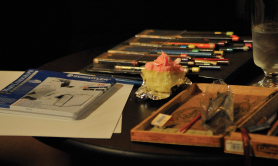 Art Tumblr