Branch Blog - South Florida
On July 21st from 7pm to 9:45, Stage 84 Music Cafe will host the opening launch session of Dr. Sketchy's South Florida. It's been a long time since our area has had the pleasure of experiencing what is easily the most exciting and creative anti-art school alternative life drawing...
Read Full Article
It's been a while, but the South Florida Market is ready once again to welcome a Dr. Sketchy's branch!! Whoo hoo! We are currently looking for interested volunteers, models and, of course lots of art monkeys to join the alternative life drawing revolution! Please contact us directly if you...
Read Full Article
RSS
NYC Events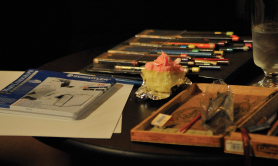 Art Tumblr