Branch Blog - Wellington, New Zealand
This month we have Sonia Hendry, the magnificent, accomplished and award winning pole dancer and the incredible woman behind Kiwi Pole Fitness - a ground breaking pole dance studio based in Lower Hutt. We are also utterly delighted to have the sensuous delight of Azura Serpentine...
Read Full Article
Wow! What a wonderful wonderful Dr. Sketchy, The super clever Mexican luchador El Jaguar brought up feelings of empathy, hilarity, joy, pity and sexiness that all fused together and lingered in the Mighty Mighty air just long enough to be awkward.
As our local...
Read Full Article
RSS
NYC Events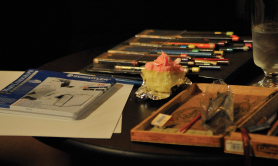 Art Tumblr
Dr Sketchy's LA 12/3/13 (pt. 1)
artofach.blogspot.com
http://drsketchy.tumblr.com/post/69132640329