Branch profile - Des Moines, IA
Dr. Sketchy's Des Moines
•

Des Moines, IA

•

.(JavaScript must be enabled to view this email address)

•

Venue: des moines, iowa
---
Straight out of the corn-fed state, comes Dr. Sketchy's Des Moines, bringing you dazzling dames, delicious drinks and the most fun you've ever had at a live drawing session.
Amidst buxom burlesque beauties, seductive belly dancers, and steamy pin-up dolls, professional artists and casual observers alike can participate in the monthly Anti-Art School movement. Each month, your sessions will be hosted by local artist Michelle Holley, who will bring you the most risqué, seductive and talented performers our great city has to offer.
Rapidly corrupting your local art scene since 2011, Dr. Sketchy's Des Moines promises to bring voluptuous, scantily-clad debauchery to a venue near you! Grab your pencils, paint, lipstick or rouge, and come participate in the rebellion.
If you are interested in volunteering for the madness, please contact .(JavaScript must be enabled to view this email address)
Schedule of Upcoming events
RSS
NYC Events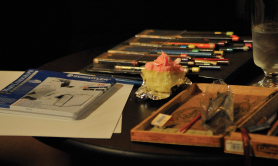 Art Tumblr