Branch profile - Leeds UK
Dr. Sketchy's Leeds
•

Leeds UK

•

.(JavaScript must be enabled to view this email address)

•

Venue: The Maven 1a Call Lane Leeds
---
Sponsored by the incredible Vivien of Holloway http://www.vivienofholloway.com
Calder graphics Huddersfield
https://www.facebook.com/pages/Calder-Graphics/211776264613
and Baby Tattoo
http://www.babytattoo.com/

Presenting to you Dr Sketchys Leeds for all you art thrill seekers and cabaret fans.
Lurking within intricate streets of Leeds city centre lies The Maven a glamorous pre-prohibition cocktail bar where Dr Sketchys likes to call home.
Prepare for monthly themes or burlesque, cabaret and the very strange indeed. Let your hosts guide you through the merriment of prize challenges and obscure anti art practices.
Join us for fun frolicking and a whole heap of wrong. So get your pencils and pens and join them every 2nd thursday of the month at the Maven Leeds.
If the group is not your thing and you want your own event with a difference contact us at .(JavaScript must be enabled to view this email address) to discuss your bespoke event.
Schedule of Upcoming events
Thu, December 12, 2013 • 2:00pm - Dr Sketchys S*@T Christmas Party
Dr Sketchys S*@T Christmas Party
Ho Ho HO cried Santa Claus as Dr Sketchy flew down the chimney with a very dirty sack and a fistful of crackers and exclaimed what a fine S*@t Christmas party this is .....
Join Santa, Dr Sketchy and his elves for one night of pure unadulterated gaudy Christmas tat in all its finery.
There will be yule logs, rum truffles, daft carols and festive artistic games with prizes that will leave you stunned till March.
So pull on your socks, wrap up tight and brace yourselves for this winter as we have all the excitement you can literally throw a snowball at.
Burlesque and modelling from the outstanding Ivy Wilde. This event will be her last burlesque performance EVER!!!! Lets see this incredible performer off in style.
Date: 12th December 2013
Time 7pm to 9pm
Entry £5
Venue the Maven 1a Call Lane Leeds
RSS
NYC Events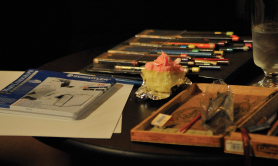 Art Tumblr
Dr Sketchy's LA 12/3/13 (pt. 1)
artofach.blogspot.com
http://drsketchy.tumblr.com/post/69132640329