Branch profile - Northfield, MN
Dr. Sketchy's Northfield
•

Northfield, MN

•

.(JavaScript must be enabled to view this email address)

•

Venue: The Contented Cow 302B Division Street S Northfield MN
---
Dr. Sketchy's Northfield is run by Jeff Bockenhauer. If you're interested in volunteering, send an e-mail to .(JavaScript must be enabled to view this email address) or .(JavaScript must be enabled to view this email address).
.................................................................................................................
Dr. Sketchy's Anti-Art School, Northfield
The Day of the week:
3rd Sunday of the month
Times:
Doors at 1, Show 2pm – 4pm
Location:
The Contented Cow - Downtown Northfield
Types of Media allowed:
Preferably dry but tidy, No cameras please.
Cost:
"Pay to play" admission is $7 ($5 for Students) Tips Welcome
Co-coordinator or contact:
Jeff Bockenhauer
Email address:
.(JavaScript must be enabled to view this email address)
URL:
http://www.facebook.com/pages/Dr-Sketchys-Northfield/160549757376803
Easels, drawing boards, or benches available? No
Models:
Performance artists with instinctively good lines and body awareness, our models range from burlesque dancers, roller derby girls to belly dancers and sideshow type folk. Event may often feature more then one model in various stages of undress or costume.
Event Synopsis:
Not your typical life drawing session. Experienced and beginning artist alike are welcome to compete in irreverent contests for fanciful prizes. The event runs two hours with short breaks; serves food, and cocktails are available. Must be 21 and up or accompanied by an adult. No reservations necessary but seating is limited so arrive early!
Schedule of Upcoming events
RSS
NYC Events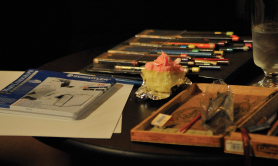 Art Tumblr
https://vimeo.com/81362468