Branch Blog - Los Angeles, CA
Sat, January 21, 2012 • 3rd Annual Dr. Sketchy's Los Angeles 26 Hour Marathon
Join us for 26 non-stop hours of artistic inspiration Saturday, January 21st at 8:00 PM through Sunday, January 22nd at 10:00 PM. Seriously... 26 hours of 'round the clock models. Reserve a spot now for $39 by clicking this link, or pay $45 at the door.
Models Include
Danni Doll (Saturday 8:00 PM)
Mosh (Saturday 9:00 PM)
Marian Liddell & Tiffany Chin-Sim (Midnight)
Dove Benari & Miss Crash (Sunday 4:00 AM)
Sash Suicide (Sunday 8:00 AM)
Samion (Sunday 3:00 PM)
Ulorin Vex (Sunday 7:00 PM)
Plus appearances by Amanda H., Auralynn, Mrs. Baby Tattoo, Gabby Grave, Ariella Cohen, and whoever else wants to get naked.
More details and advance payment/reservation information here.
RSS
NYC Events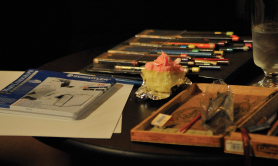 Art Tumblr
https://vimeo.com/81362468