Mon, November 22, 2010 • A New Art Monkey, a hot dog, a tiger and a matador!
Whoopsie Daisy brought the fun and odd with her hot dog, tiger and matador costumes! Plus our new Art Monkey, Margot brought her family heirloom accordian and a bust of Napolean for our model to pose with!
And after all the fun, we headed to Sputnik for a bite and a cocktail, where Whoopsie and fellow burlesque girl and Sketchy sketcher/photographer Frangelica Love took advantage of Sputnik's awesome photo booth!
RSS
NYC Events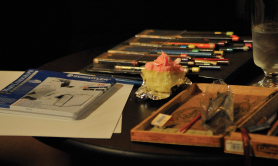 Art Tumblr