Branch Blog - New York, NY
Thu, September 14, 2006 • A New Hope
A long time ago in a Brooklyn far far away we had Gigi LaFemme lined up to pose as Princess Leia in full gold bikini. Sadly, dark and mysterious forces (A bad allgeric reaction, get well Gigi) forced us to change models at the last moment. So instead of Princess Leia and her cinnabuns we have birthday girl and founder Molly Crabapple with her buns.
Not a bad trade off I'd say, but did render the Star Wars mix cd seem a bit…incongruous.
Molly is wearing a skin-tight rubber binki from Vex Latex. Did you know latex is very fragile? It cannot be left out in sun or the heat. It cannot come in contact with salt, bleach, or Lutherans. When wearing latex, remember that it watches you, silently plotting it's dark, chemical plans. Remember to clean it only with a damp rag. Proper care can keep a latex outfit in good condition for days.
It was Molly's birthday (or sometime close to it) that saturday. So we had party hats, noise makers, and of course
Delicious celebratory spun sugar! Cakes are becoming a bit of a theme here at Dr. Sketchy's, which worries me in a dark, deep place in my soul.
(For true fans, the cake reads "Try Not To Succeed.")
Of course, no birthday would be complete with cupcakes and spanking. Kate Black of Badbuttons.com was happy to provide both!
Of course we had drawing and contests. Don't belive me?! Take a look at this shocking evidence from Photog Ryan Roman!
Our contests where, best incorporation of Yoda, best transformation into a birthday cake, ect. Our sponsors where Engraving Shack and BadButtons. Yea them!
These are, of course, small disturbing rubber-go toys thrown at the Art Monkeys at the end of the show. They are also a reminder that you can never escape the Old Ones. They too watch, with endless patience, until the reign of man has ended and the Old Ones can once again rise from the depths and sing the songs that end the world.
And on that note, more birthday hats!
Come back next week when Amber Ray will return in full peacock glory! Also, My birthday! Be there bitches and bring me cake!
-----
RSS
NYC Events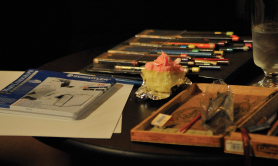 Art Tumblr
https://vimeo.com/81362468