Branch Blog - Baltimore, MD
Fri, December 09, 2011 • A twisted night of drawing with contortionist Rebecca Nagle!
It's the LAST session of Dr. Sketchy's Baltimore this year!
How are we going out? Whimpering like a three-year-old who just saw Momma smack the daylights out of Santa Claus?
Hell no.
We're going out with Rebecca Nagle, performance and community artist and contortionist extraordinaire.
What's a contortionist? Remember that time your local constable found you standing outside the local post office at three in the morning with two flat-screen televisions, an orangutan, and a fifth of Jack? Remember the long-winded, convoluted lie you had to weave to get out of it?
No?
Okay, well, remember the pretzel shape you had to twist yourself into to slip out of the handcuffs and exit the squad car while the constable was pepper-spraying everyone inside an all-night diner?
No? You went to jail?
Wussie.
Well, this Dr. Sketchy's is going to rock. I'm talking all sorts of craziness will be up in this place: Rebecca Nagle going all human origami for your life drawing pleasure, non-denominational holiday decorations strung helter-skelter like a Griswold went on a bender, Alexis kicking Santa's in the balls left and right, a "holy shit!" prize from Atomic Books, non-Christmas stockings from What Katie Did, Flying Dog Beer specials, and another chance to win an awesome Baby Tattoo book.
This will be your last chance to get in some Dr. Sketchy Baltimore goodness till late January. Stock up. It's going to be a long, cold holiday, friends. Let the amazing, confounding, Rebecca Nagle give you one last good Sketchy memory before this year goes dark completely.
If your hip shatters sympathetically as she poses, neither Dr. Sketchy's Baltimore nor Dr. Sketchy's in general or any of its affiliates are in any way liable for damages.
Doors at 6, start at 7. 18+ to draw, 21+ to drink. $8 cover. No photography, no messy paints (ie, don't piss off Russell) (watercolors are fine).
Photos of Rebecca Nagle by RARAH, http://rarahphoto.com/
More details at http://drsketchysbaltimore.wordpress.com
RSS
NYC Events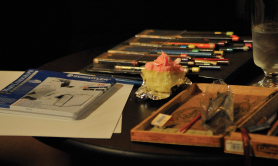 Art Tumblr
Dr Sketchy's LA 12/3/13 (pt. 1)
artofach.blogspot.com
http://drsketchy.tumblr.com/post/69132640329