Mon, March 26, 2012 • Cowboys & Indians
Le 24 mars, nous avons accueillit deux modèles du milieu burlesque, L.Diablo et Lou Lou la Duchesse de Rière, pour une séance remplie de clichés « western »! Sexy? Oh que oui! Politiquement correcte? Définitivement pas! Tout de même, nos jolies muses se sont bien amusées à jouer aux cowboys et indiens!
***
On March 24, we welcomed two burlesque models, L.Diablo and Lou Lou la Duchesse de Rière, for a session full of Western clichés! Sexy? Hells ya! Politically correct? Not a chance! Either way, our lovely muses had a great time playing Cowboy and Indian.
Pour visionner le blogue complet de la session, visitez : Dr. Sketchy Montréal
***
To view the full session blog, visit: Dr. Sketchy Montreal
RSS
NYC Events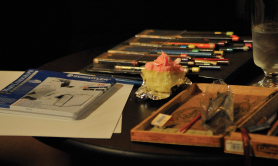 Art Tumblr