Branch Blog - Knoxville, Tennessee
Tue, February 21, 2012 • Dr. Sketchy's Knoxville: Our Valentine's Day ain't over, we got a Rockabilly Crush!
Session, 2/19/12 at Old City Entertainment Venue in Knoxville, TN
All Photos by JASON R. SCOTT
To say that the "Little Branch That Could", Dr. Sketchy's Anti-Art School is starting to thrive would be an understatement…we are really starting to find our groove and our regular art monkeys keep comin' back for more. Better yet, we are always excited to see new faces in the crowd. This month we kicked our session into OVERDRIVE and celebrated with a ROCKABILLY CRUSH theme featuring performances and models from Knoxville's White Lightnin' Burlesque troupe! The evening began with Cherry Dee Light (below) and her teasing us at the "Queen of Pain"…oh how having a crush can hurt sometimes!
Branch manager, Nipsy Tussle and our branch art consultant, Rob St. Clair got the party started and cleared the way to meet our CRUSH for the night – the man with the plan, the boy that all the girls' hearts beat for…our own, hunk-a-hunk-a-burnin' love, Jeremiah Horsley (below). He posed like a champ and we all kinda' fell in a lil more love with him.
Then, as her name best describes her, Sassy Frass (below), took the stage and welcomed us into her "Ring of Fire". Mesmerized by her hips and sips of whiskey the art monkeys were ready for more!
So we did a switcheroo challenge where we introduced our ROCKABILLY Crush's first true love whom was soon replaced by the seductive Sassy! The art monkeys handled the switch off challenge in FINE form and gave us a rendition of how a broken heart and revenge can lead our honeys to hurt the one they love.
Last up for performing was the ultra-leggy, Strawberry Tallcake (below), who all but fixed our broken hearts with her sweet performance.
Finally it was Cherry Dee Light's chance to take on the long-form 20 minute modeling challenge as our ROCKABILLY CRUSH's latest love, and look at just ONE of the wonderful works of sketch art came from their pose (below).
The lovely ladies of White Lightnin' Burlesque did an amazing job of holding the poses and really inspiring some incredible artwork from our art monkeys.
The incredible night came to a close with a huge dose of love and a donation to the Hellcat Harlowe "Feel-Better Fund" as White Lightnin' Burlesque's founder and head had suffered an accident in December that has her still recovering with the hopes of performing again! A true dame and darling' she showed up to support her girls and we were honored to give her a lil something to help her with whatever expenses she's having to deal with during her recovery.
Life is damn good at Dr. Sketchy's Knoxville and even with a ROCKABILLY boy who changes girls as often as he changes his underwear, we just cannot wait to come back for more.
(Nipsy Tussle, Rob St. Clair and Jeremiah Horsley)
RSS
NYC Events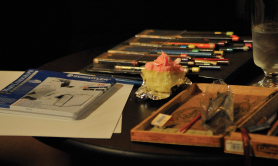 Art Tumblr
Dr Sketchy's LA 12/3/13 (pt. 1)
artofach.blogspot.com
http://drsketchy.tumblr.com/post/69132640329