Branch Blog - South Florida
Sat, June 16, 2012 • Dr. Sketchy's South Florida Voted "Best Art Event - 2012" by the New Times!
"For Brooklyn artists Molly Crabapple and A.V. Phibes, life drawing classes had become snoozeworthy: Sure, there was a naked model in the room, but said room was cold, fluorescent-lit, and filled with strangers.
The experience would be so much better with friends. And alcohol. Thus, the two wizards birthed Dr. Sketchy's Anti-Art School — a cure for the common, drab, drawing-class environment. The alternative art craze swept the nation, finally landing itself a home in South Florida at Stage 84.
Once a month, creative folk gather at the cozy hangout and feast their eyes on busty burlesque babes waiting to be sketched. The alcoholic drinks flow, cheering and shouting ensues, and five-foot-long balloons get swallowed by amazonian beauties.
This anything-goes artistic atmosphere certainly draws a unique crowd and has no room for snobby folk just looking to place a red dot on an expensive painting."
THANK YOU NEW TIMES AND MOLLY CRABAPPLE!!!! WHOOOO HOOOOOO!
RSS
NYC Events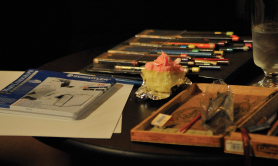 Art Tumblr
Alvin Black III
Frosty's going to melt…at Jingle Belle, Dr Sketchy Chicago Branch
Model: Rhonda Vous

my work on facebook: https://www.facebook.com/AlvinthethirdPainting
http://drsketchy.tumblr.com/post/70620589200