Fri, January 27, 2012 • DR SKETCHY SWFL PRESENTS 30 MINUTES OF SKETCHINESS AT TIME LORD FEST
Doctor Who just got a little Sketchier thanks to Dr Sketchy SWFL and Time Lord Fest in Tampa!
We will be holding a 30 minute Dr Sketchy Panel with 4 Whovian models for attendees to draw.
Meet Sketchy Model Mitchell Spencer who will be posing as The 10th Doctor during Time Lord Fest - Tampa!
"My name is Mitchell Spencer i am 18 years old and i am a Performing Arts Major with a minor in dance at the University of Tampa. i have been acting and singing since i was 15. and in this past month i was given the great honor of performing at The Straz center for the performing arts. I was pulled into the "whoniverse" by my room-mates only a few short months ago and i have been addicted ever since. One of my great ambitions as an actor is to become the 13th incarnation of The Doctor"
Meet Sketchy Model Allison Farrell who will be posing as Rose Tyler during Time Lord Fest - Tampa!
I'm 18, currently in college (University of Florida) studying Forensic Anthropology. Been cosplaying since I was about 10, making my own costumes since I was 13. It's my passion (along with Doctor Who). If you wanna see more of me, check out our Doctor Who Fan Film, coming soon. We have a Facebook page. And so do I! Look me up, I would love to meet some new people who share my passions!
Meet Sketchy Model Fallyn Angel who will be posing as River Song during Time Lord Fest - Tampa!
"I've been an avid costumer of over ten years, and a lifetime fan of Doctor Who. I love creativity and expressing one's fandoms in any way possible." (Photo Credit: Derik Gutowski 2011)
Meet Sketchy Model Shaundra Pederson who will be posing as Amy Pond during Time Lord Fest - Tampa!
"My name is Shaundra. I will be graduating from USF this semester with a B.A. in Mathematics, and I currently work as a graphic designer for a wedding photography company. I love Doctor Who, specifically doctors 10 and 11, and have recently started getting into the classic Doctor Who episodes. I'm loving Tom Baker's doctor! Can't wait until Saturday!"
Time Lord Fest is a mini-science fiction and literature convention focusing primarily on Doctor Who and the writings of independent authors. It will be held at The Empress Tea Room & Bistro in Tampa, Florida (located in the Carrollwood Village Shop on the corner of N. Dale Mabry & Fletcher.) ...where you can meet fellow Whovians, sip some tea or have a beer, and share an evening with friends!
Dr Sketchy SWFL is scheduled to start around 9:00pm (right after the Ken Spivey Band) where we will try to pack an entire Dr Sketchy event into 30 minutes...People assume that time is a strict progression of cause to effect, but *actually* from a non-linear, non-subjective viewpoint - it's more like a big ball of wibbly wobbly... time-y wimey... stuff.
So Join us at Time Lord Fest! Remember - Don't Blink! You might miss it!
Here is the Facebook Event Page for more informaton: http://www.facebook.com/events/223794247675578/
RSS
NYC Events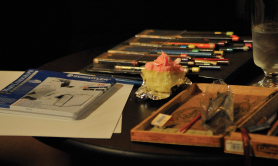 Art Tumblr