Wed, January 09, 2013 • Dr Sketchy SWFL Presents a A Sweet & Sketchy Birthday for Strawberry ShortSk8!
The Sketchiest Event in Punta Gorda...and You're Invited!
Are you an artist, or do you want to be one? Art lovers of ALL skill levels are invited to attend Dr. Sketchy's Anti-Art School at The Celtic Ray and experience what is easily the most exciting and creative alternative life drawing session in SW Florida! This isn't the standard life drawing night you're used to. We encourage (responsible) drinking, socializing, snacking on tasty treats and we encourage wild cheers and applause to show appreciation for our models! So, grab your sketch pads (iPads welcome), sharpen your pencils, have a Cup of Curry or three and lets make some Art!
Join us as we make Strawberry ShortSk8's Birthday the Sketchiest one possible! Clues to our theme is going to include "Sweets" and "Roller skates"...
RSVP On Facebook: http://www.facebook.com/events/455557111170130/
RSVP on Meetup.com: http://www.meetup.com/DrSketchySWFL/events/96059172/
= = = Details = = =
Cover Charge: $5 in advance and $8 at the door depending if there will be a performance etc. (18+ to Draw / 21+ to Drink)
What to Bring: You will want to bring a drawing board, sketch pad or something sturdy to draw on as sometimes table space is a bit limited....also, any dry materials (or super quick drying medium as poses are sometimes quick) - such as colored pencils, markers, charcoal, pencil, etc. We are also working with "Bar" lighting so you might want to pack a small book lamp. We will be doing a series of short poses (1, 2 and 5 minutes) and then work up to some longer 20 minute poses. Models will typically be costumed or wearing clothing to a point, as this is not a nude drawing session. Tipping of the model is encouraged.
Location Location Location: We are holding our event at The Celtic Ray located in Downtown Punta Gorda at 145 East Marion Ave. It is located on the Corner of US17/Marion and Nesbit right next to the Bank of America. We will be holding our event upstairs.
Where to Park: Parking is on Street however there are no parking meters to worry about. You can easiest parking would be next to the Ray in the Bank of America overflow lot.
Photography: Dr Sketchy is primarily a Social Drawing Event however we do welcome Photographers from time to time. Be Respectful. Different Models will have different requests regarding photographing them during our events, we will try to provide this information before the event and go over it again during the event. If you are invited to take pictures during our events please make sure to share copies of the photos with the models and also with Dr Sketchy SWFL. If you are one of the Artists drawing during our events, please be mindful of when the models do not want to be photographed before taking pictures with your camera phone - we want them to keep our models happy.
The Celtic Ray: The Celtic Ray Public House in downtown Punta Gorda opened in 1997 by Proprietor Kevin Doyle. At that time there wasn't a single establishment in the area that offers a full liquor bar and high-quality imported draught beers, bottled beers, ciders, fine wines, as well as, a selection of "soft" beverages. Their menu features traditional Irish Pub favorites made from fresh ingredients and family recipes. The Celtic Ray's Fish & Chips are famous world-wide! http://www.CelticRay.net/
Contact Information: Contact Heathyre via email [email protected] or leave a message on our 24/hr voicemail: 941-882-0677.
Websites:
http://www.DrSketchySWFL.com/
http://www.Facebook.com/DrSketchySWFL
http://www.Meetup.com/DrSketchySWFL
http://www.DrSketchy.com/branch/SWFlorida
RSS
NYC Events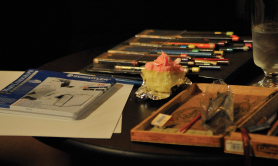 Art Tumblr
Dr Sketchy's LA 12/3/13 (pt. 1)
artofach.blogspot.com
http://drsketchy.tumblr.com/post/69132640329