Branch Blog - Nashville, TN
Mon, April 26, 2010 • Dr Sketchys at Bonnaroo gets Whitelines Paper as our Sketch Pad Sponsor
Dr Sketchys just got our paper sponsorship for Dr SKetchys at Bonnaroo! Whitelines paper company in Sweden! They are one of the first paper vendors in the world, if not the only, to use the CARBON FOOTPRINT labelling. Im so thrilled! Thank you Molly Crabapple our frealess Sketchys leader for your help on this! Thank you! Thank you! Thank you!
http://www.whitelines.se/en/environment
Whitelines® – a Pioneer in Environmental Awareness and Responsibility Whitelines® believes in transparency
Whitelines is one of the first paper vendors in the world, if not the first, to use the CARBON FOOTPRINT * labelling. Whitelines paper comes from Sweden with no C02 emissions from production. Made in Sweden - Local production. Energy production in Sweden, which forms a very low carbon emission mix. Short transportation distances to Whitelines warehouse and only bulk deliveries overseas. The Carbon Footprint of a Whitelines "Wire A4" notebook for example is 0,36 kg Carbon Dioxide. This is the sum of CO2 emitted from the whole production cycle and transportation to our warehouse in Växjö, Sweden. The Carbon Footprint is calculated throuch a LCI (Life Cycle Inventory) carried out by NEWA in collaboration with the Royal Institute of Technology in Stockholm. In brief the emissions for our products come from Forestry – Logging – Transport from the woods to the mill – Paper production – Print and Post print – Transport to our warehouse.
Each step causes different amount of emissions. We are very proud to present a paper which itself doesn´t cause any emissions from fossil fuel at all! Displayed in brief the production of the inlay causes in each step:
"When we first started with this it didn´t mean a thing to us either, but we thought we had to start somewhere. We learned quickly and soon realised that we could actually make a change. Now we know that our emissions are extremely low." Carl-Philippe Carr, founder Whitelines At Whitelines, we make a serious effort to decrease our carbon footprint. We work to keep the emissions from production extremely low by using local production and a unique partnership with a Swedish pulp and paper mill (Nymölla mill) which produces carbon neutral paper. Our focus is on preventing emis- sions rather than compensating for them. We claim that Whitelines® paper is healthier for the planet but would happily be challenged by other companies. All kinds of consumption causes stress on the climate, and users, distributors and producers must share this common concern. Our objective is of course to reduce the harm to the planet, not to win a silly competition between companies.
* A Carbon Footprint is the total amount of Greenhouse Gas Emissions caused directly and indirectly by an individual, organization, event or product.
RSS
NYC Events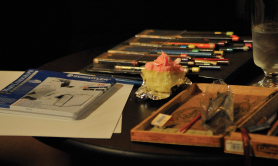 Art Tumblr
Dr Sketchy's LA 12/3/13 (pt. 1)
artofach.blogspot.com
http://drsketchy.tumblr.com/post/69132640329