Mon, March 14, 2011 • Dr Sketchy's SWFL Tribute to Clockwork Orange March 2011 Re-cap
Welly, welly, welly, welly, welly, welly, well....my little droogies, let me tell you this..we sat in the Torch Bistro trying to make up our rassoodocks what poses to draw for evening. We indulged in fine foods and imbibed the finest of wines and mixed drinks...a touch of milk....all this would sharpen us up and make us ready to draw a bit of the old ultra-violence. Kevin Keys took on the persona as charismatic delinquent Alex DeLarge in a Tribute to Stanley Kubrick's Clockwork Orange! Through his poses he told of the adventures of a young man...who couldn't resist pretty girls...or a bit of the old ultra-violence...went to jail, was re-conditioned...and came out a different young man...or was he?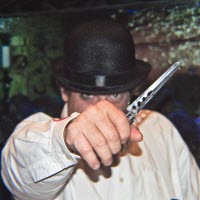 Our evening was made possible by the Generosity of one of our gracious national sponsors; Baby Tattoo Book and What Katie Did.

Our Model's Choice for the evening was a sketch by Dee Ott (On Left) and our Runner Up for the evening was a sketchy by Stuart Stuthers (on Right). Visit our Facebook Page for more pictures from the evening: http://www.facebook.com/DrSketchySWFL



Dr Sketchy's SW Florida tribute to A Clockwork Orange from Dr Sketchy's SW Florida on Vimeo.
It had been a wonderful evening and the only thing we could have possibly needed, to give it the perfect ending, was a little of the Ludwig Van. Thank you to everyone who came out for our Tribute to Clockwork Orange and don't forget to join us next month for our Circus Theme featuring Ring Master Sheina Fae.
RSS
NYC Events
Art Tumblr