Branch Blog - Richmond, VA
Thu, June 06, 2013 • Dr. Sketchy's RVA Presents: Name Of The Rose
Happy June Art Monkeys!
Spring has sprung, trees are green to the brim, and the warmth of summer is creeping in with the daylight of every morning...a perfect recipe for the flower of the month, the rose to bloom in all it's beauty!
This month at Dr. Sketchy's Anti-Art School Richmond, VA Branch we have not one, but TWO Roses, in their double edged duality of stark elegance and thorny strength. Performance art duo, NAME OF THE ROSE featuring Headmistress Deanna Danger Rose and Mister S will be modeling, playing live music and dancing in celebration for the spirits and YOU June 19th at Strange Matter.
Join our headmistress Deanna Danger and Artistic Mistress Brit Austin of BLA Illustration from 6-9pm at Strange Matter (929 W. Grace St., RVA). Admission is only $7, or $5 w/ student ID! Seating has been filling up quick in our sessions, be sure to get there early to get a good spot!
As always, one free Dr. Sketchy pass given away as a door prize! We'll also have 3 drawing contests for you to try your hand at winning some fabulous prizes!
***Sponsored by BLA Illustration- The Art of Brit Austin!
Get those pencils sharpened Richmond, we'll see you there!
Photo courtesy Brekken Rose
Poster by Deanna Danger Productions
www.facebook.com/drsketchysrva
www.deannadanger.com
www.blaillustration.com
www.babytattoo.com
www.strangematterrva.com
www.facebook.com/nameoftherosefanpage
RSS
NYC Events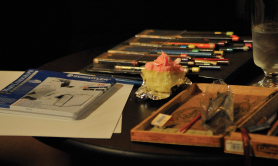 Art Tumblr