Wed, April 03, 2013 • "Killer Bee Women from Venus! Tribute to the Golden Age of Science Fiction"
[Description]

Attack of the 50 ft woman! Feline Cat burglar from Hell! Killer Bee Women from Venus vs. The Floating Eye of Death!
Join Dr. Sketchy's Philly with models Victoria of "Venus in Chains" and Timaree of the "Sisters Sirens" and "Sex with Timaree" as they pose in classic Science Fiction scenes.
Special Guest Ja-Naé Duane on her "Agents of Change Tour"! The Agents of Change tour is a year-long tour exploring the impact of creativity and collaboration on local communities, artists, and entrepreneurs. The tour nurtures collaboration using communal and artistic events, shared resources, cultural exchanges, and ideas to cultivate opportunities for these communities.
DJ John Burke * might * get talked into wearing an alien costume...but guaranteed he will have a killer selection tunes!
Sponsors Baby Tattoo Books, Pinups for Pitbulls, Sourpuss Clothing will have prizes for contests!
Stoli Sticki (honey flavored vodka!!) will be providing the libations!
Grab your pencils/pens/chalk/etch a sketch! This is a session you do not want to miss.
$12
RSS
NYC Events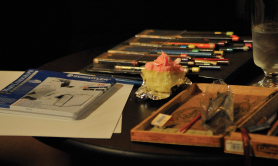 Art Tumblr
https://vimeo.com/81362468