Wed, August 24, 2011 • Make a Splash with Dr Sketchy SWFL at the Fort Myers Art Walk!
Dr Sketchy SWFL is once again invading the Fort Myers Art Walk this September at the Sidney & Berne Davis Art Center. This Month's SBDAC Gallery Exhibit feature artwork Islamorada artist, Stacie Krupa. Coordinating with Stacie's exhibit, entitled "Sassy Spicy Soulmates – Seahorses, Sea Turtles & Salty, Socialite Friends," Dr Sketchy SWFL will be holding a FREE drawing event out front with Alasea, the Blue Mermaid, for your Sketching Pleasure. Yes, you read that right, a LIVE Mermaid.
Alasea is a Blue Mermaid. She is saddened by the pain, crime, abuse, famine, and hate she sees in the human world. She comes to land to share the mermaid's way of love, kindness, generosity and respect that has made the mermaid realm a place of peace and harmony. You can learn more about Alasea on her website
http://www.BlueMermaid.net
Join Dr Sketchy SWFL at the Sidney & Berne Davis Art Center between 7-9pm to draw our fabulous Muse Alasea. Bring your art supplies (iPads/iPods Welcome) or Borrow some of ours (I'll be bringing some extra paper and pencils for anyone who feels like just stopping by). This will be a free event but I will be putting out a Tip Jar so anything you can throw in will go toward Paying the Model and the extra Paper/Pencil supplies as well as a portion to the Art Center. Free to Draw ~ Feel Free to Tip! Come make Art and Support the Arts! Don't Forget! We'll be randomly giving away prizes to any Art Monkeys who uploads their Sketches and Photos to our Facebook Page (or emails them to
[email protected]
). You can RSVP on our Facebook Event Page Here:
https://www.facebook.com/event.php?eid=184217764967950
Check out the article about our event on Examiner.com "
It will be Sketchy Mermaids and Sirens at the Davis Art Center for Art Walk
" by Tom Hall!
RSS
NYC Events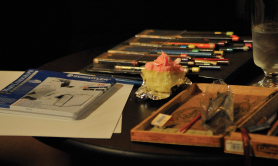 Art Tumblr
Dr Sketchy's LA 12/3/13 (pt. 1)
artofach.blogspot.com
http://drsketchy.tumblr.com/post/69132640329