Sat, August 04, 2012 • Next Session: Saturday Aug 18 - At Tiki Oasis with Marina the Fire Eating Mermaid
Our next session is Saturday August 18 at Tiki Oasis. We are thrilled to be returning to this spectacular 3 day Tiki festival and to welcome back the beautiful Marina the Fire Eating Mermaid as our model. Get your advance tickets here (scroll down on the tickets page to find Dr Sketchy's)
Come and draw
Marina the Fire Eating Mermaid as
A Diving Assassin
Saturday August 18
3 - 6pm
At TIKI OASIS 12
at The Crowne Plaza Hotel - in the Peacock II Room (above the hotel lounge)
2270 Hotel Circle North San Diego, CA 92108 (map)
Join us for an afternoon inspired by Tiki and secret agents and enjoy drawing, drinks and a carefully crafted music playlist (plus sweet treats from us!) and compete in silly contests for fabulous prizes!
Only $10. Bring your sketchpads and drawing implements
Don't miss your chance to draw this "Finned Femme Fatale" from Florida!

Reserve your spot here NOW for the best seats!
(scroll down on the tickets page to find Dr Sketchy's)
ABOUT TIKI OASIS:
Tiki Oasis is "the largest and longest running Tiki Event on planet earth." Three scrumptious days packed with good times, fun, shopping, symposiums, music and entertainment celebrating everything Tiki. Dr Sketchy's Anti-Art School San Diego is honored to be part of this incredible event.

Please note: There is much to see at Tiki Oasis during the day (for free too!) so come early and enjoy the classic car show, Tiki vendors, the Tiki Oasis Art Show and more before the Dr Sketchy's session. You'd need to buy a Tiki Oasis evening pass to enjoy any of the festivities and entertainment that happen after 5pm by the pool. The evening passes sell out so get them while you can!
RSS
NYC Events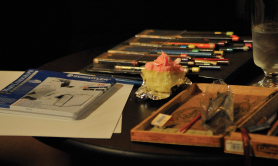 Art Tumblr
Dr Sketchy's LA 12/3/13 (pt. 1)
artofach.blogspot.com
http://drsketchy.tumblr.com/post/69132640329