Fri, July 12, 2013 • Next Session: Saturday July 20 - IN THE BALLROOM with actress & yogi Jo Anne Glover
Celebrate our 6th Anniversary and come and draw outstanding actress and yogi Jo Anne Glover, Founder and Managing Director of MOXIE Theatre, at our July session:
IN THE BALLROOM
Saturday July 20
3 - 6pm
Location will be announced soon (We're working on an extra special venue for our anniversary celebration - stay tuned to our website for details)
In celebration of our 6th Anniversary, join us for a for an afternoon inspired by characters found in a ballroom and enjoy drawing, refreshments and a carefully crafted music playlist (plus sweet treats from us) and compete in silly contests for fabulous prizes!
21 & up
Only $10. Bring your sketchpads and drawing implements
Don't miss out! Reserve your spot here NOW for the best seats!
RSS
NYC Events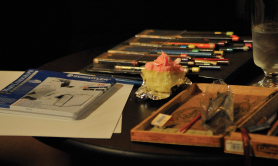 Art Tumblr
https://vimeo.com/81362468