Mon, October 08, 2012 • Next Session: Sat Oct 20 - HAUNTED HIGH TEA with performer Zoe Tantrum PLUS Eat Your Art Out Event
GREAT NEWS! This month we have our regular session plus a very special add-on to our session - Eat You Art Out, an amazing lunch party, raising funds for San Diego Visual Arts Network. Read more below.
More about our regular session...
In honor of Halloween, come and draw beautiful and talented singer, artist and performer Zoe Tantrum at our October session:
HAUNTED HIGH TEA
featuring singer and performer Zoe Tantrum
Saturday October 20
3 - 6pm
At the Ruby Room in Hillcrest - 1271 University Ave, San Diego CA 92103 (map)
Join us for an afternoon inspired by Halloween and high tea and enjoy drawing, drinks and a carefully crafted music playlist (plus cake pops from CutiePops) and compete in silly contests for fabulous prizes! And, for the bold art monkeys, haunting high tea attire is highly encouraged. We'll have a special prize for the best dressed.
21 & up
Only $10. Bring your sketchpads and drawing implements
Don't miss out! Reserve your spot here NOW for the best seats!
More about Eat Your Art Out...
Haunted High Tea Eat Your Art Out
Fundraiser for San Diego Visual Arts Network
"Fine dining with fine artists"
Saturday October 20
12:30pm
Featured artists: Albertine Feurer-Young, Nancy Carp, Yesenia Maybee, Matthew Hohlfeld
Model: Zoe Tantrum
*Lunch will be served in the Ruby Room parking lot inside Sterlings Mobile Barber Shop Company's Airstream trailer*
Join us for an afternoon of hauntingly beautiful fun - unexpected and out of the ordinary – all in the spirit of high tea and Halloween.
Part one of this treat-filled jaunt starts with lunch and delicious libations. Talented artists will guide you in the creation phase of your journey, where you will engage in discussion about criteria for judging an anti-art school contest. If you desire, you will have an opportunity to make an award with your very own hands and imagination (supplies provided, of course).
Part two of your frightfully delightful adventure takes place at a Dr Sketchy's Anti-Art School San Diego session where you will experience what it's like to be immortalized in sketch form, joining the gorgeous model who will instruct you on the finer points of posing. (You'll get "VIP time" with Zoe all to yourself!) You will also confer, deliberate and judge a contest and award the winner. And, for the sweet and sinful finish to your Haunted High Tea, a generous helping of sketching and masterpieces of another kind: luscious petit fours with a twist and other tiny tea treats.
Lunch starts with nibbles, including prosciutto and melon skewers and quirky quiches, followed by gourmet sandwiches and a caprese salad. Tea time treats feature teapot-shaped cake pops by CutiePops plus luscious cream puffs and brownie bites.
Only 6 spots!
$50 per person (admission to our session is included
)
Haunting high tea attire encouraged
Find more info here RSVP and questions: Patricia Frischer 760.943.0148 or [email protected]

Pssst...please help us spread the word! It's for an amazing cause!
RSS
NYC Events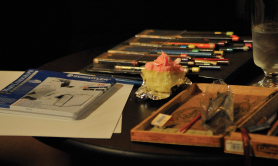 Art Tumblr