Sat, March 10, 2012 • Next Session: Saturday March 17 - COLOR ME A POT OF GOLD featuring performer and artist Leia
*Important Note: March's session will be from 2 - 5pm*
Come celebrate St Patrick's Day with us at our next session:
COLOR ME A POT OF GOLD
featuring performer and artist Leia
Saturday March 17
2 - 5pm
*Please note: This session is at a different time than usual*
At the Ruby Room in Hillcrest - 1271 University Ave, San Diego CA 92103 (map)
Enjoy drawing, drinks and a carefully crafted music playlist (plus St Patty's Day treats from us!) and compete in silly contests for fabulous prizes! All in the spirit of St Patrick's Day!
21 & up
Only $10. Bring your sketchpads and drawing implements
Don't miss out! Reserve your spot here NOW for the best seats!
RSS
NYC Events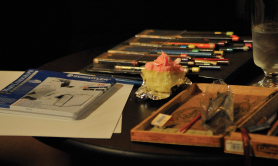 Art Tumblr
Dr Sketchy LA 12-3-13
http://drsketchy.tumblr.com/post/69027079376