Branch Blog - New York, NY
Thu, August 16, 2007 • Oh those Summer Nights….
Break out the tanning butter, It's Dr. Sketchy's Beach Blanket Recap!
With your ginchy hosts …Molly Crabapple!
John Leavitt!
And our little surfer girl ….Rita Manweep of the Peach Tarts!
We took a break to the beach this week at Dr. Sketchy's, and we brought a girl dressed as Minnie Mouse with us!
What?
With the Mai-Tai's flowing and only one (well, one and a half) power outage, this was the best summer holiday ever!
Photos by Big Khauna, Ryan Roman.
Somewhere, someone is looking at this image and trembling …the nose! the ears! The exact expression! Someone finally, magically, hit on their exact fetish.
The same could be said for this one.
It's just not Dr. Sketchys without a lot of inflatable rubber.
Or adorable panties. again, see above comment.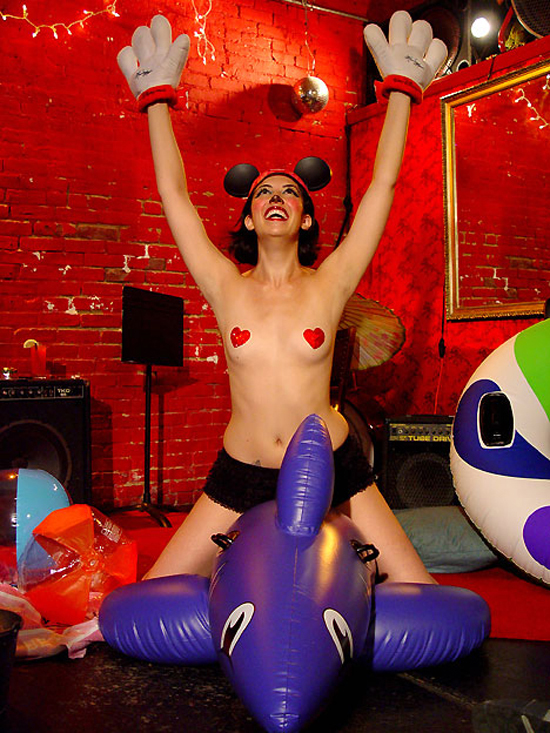 Rita actually held this pose for 20 minutes, a feat I thought incapable of man or beast!
I couldn't decide on making a prayer or touchdown joke here, so here is some awesome artwork created with the pose.
And other stuff happened!
Our Art Monkeys, some of them very well lei'd.
Prizes and the artwork that could possibly win said prizes maybe perhaps. Our sponsor this week was Molly's own sticky fingers from the San Diego Comic-Con. Rampent thievery is just one of the many ways thats we serve you better here at Dr. Sketchys!
From one of the contests, best incorporation of Mickey Mouse …cause we're a classy place.
Once again, see above fetish comment.
A winner! And remember kids, winners don't do drugs. Except maybe this massive shot rum and banana juice.
And thats a wrap. Close up the umbrella. Turn off the transistor radio, and kick the sand from yer shoes, Dr. Sketchy's is done for another week. Thanks to most un-square hepcats on the coast, Syd Bernstein, Steve Walker, Ryan Roman, Rita ManWeep, The Lucky Cat, and everyone everywhere.
Best,
-JL
-----
RSS
NYC Events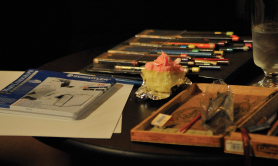 Art Tumblr