Branch Blog - Baltimore, MD
Mon, March 05, 2012 • One mustache to rule them at all.
I don't know about you, but it's been so long since the last Dr. Sketchy's that I've got the shakes. I can't even hear words like "contour" or "Time!" without sneaking down to the corner store to draw the cranky checkout guy. We're in the home stretch, though, with our first session of 2012 being Jan. 23rd with Sabrina Chap (more on that later), but before revving those engines, let's take one last look back at the final session of 2011 with contortionist and performance-artist extraordinaire, Rebecca Nagle. Idiosyncratic wipe effect, go! Some of these poses are scary, by the way. My muscles hurt just from thinking about them. 1- and 2-min poses:
Craig Hankin
J. F. Schloman
After a short 5-minute break to be merry and make Russell run in little circles behind the bar, it was time for the 5-minute poses, the first of which was ye olde non-dominant hand contest in which, if you're right-handed you draw with your left, if you're left-handed you draw with your right, and if you're ambidextrous you draw with a DINOSAUR. The two winners each received a mysterious concoction from Russell that is hopefully potable.
The remaining 5-minute poses:
J. F. Schloman
Another break to hassle Russell and the Windup's powder rooms, and it was 10-minute pose time. It happened to be Ted Nugent's birthday, so, for, uh, soon-to-be apparent reasons, we decided the contest should be best incorporation of said fellow. The two winners received either a pair of retro-style, back-seamed stockings from What Katie Did or a variety six-pack of Flying Dog Beer. Lingerie and beer, two of my most favorite things.
Charlotte Bunting Floyd
J. F. Schloman
Clarice Jones
Brian Dugan (Note: if all you're seeing is a still image for this last one, click it for the full view.)
Break-time again and then it was the first 20-minute pose with the contest being the best incorporation of "The Ents' War on Christmas". This resulted in Russell, in his DJ role, delving deeply into Lord of the Rings fandom. The results were terrifying. [youtube=http://www.youtube.com/watch?v=2f86R_Z0_xI] [youtube=http://www.youtube.com/watch?v=XC73PHdQX04] The winner received Spectrum 18 from Atomic Books in Hampden on the corner of Falls and the Avenue. That's a pretty cool prize folks--- if you need to buy books, for God's sake, buy 'em from Atomic.
J. F. Schloman
Judy Fox
Hallsi Killian
Danielle Mascioli
Our final break and it was time for our final 20-minute pose and final contest of the evening which, in honor of Russell's birthday, was "What does Russell want for his birthday?" The winner received Alien X-Mas by Stephen Chiodo, Jim Strain, and Charles Chiodo, published by Baby Tattoo Books.
J. F. Schloman
And that was that---Old Man Dr. Sketchy's Baltimore 2011 keeled over and breathed his last. Many thanks to the frighteningly limber Rebecca Nagle, without whome none of this would be possible; thanks to our generous sponsors Atomic Books, Flying Dog Brewery, What Katie Did, and Baby Tattoo Books for providing the wonderful prizes for our Machiavellian competitions; thanks to Jeff for stunning photos above; thanks to Fred and Styger for help with the stage and door; thanks to Russell for slinging tunes and booze; and thanks to Alexis for bearing the mic while the rest of the fellowship kept the orcs and Nazgul at bay.
RSS
NYC Events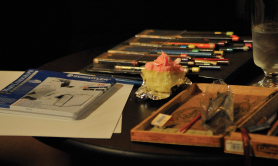 Art Tumblr
https://vimeo.com/81362468