Branch Blog - New York, NY
Mon, August 26, 2013 • Queen Apiim
Greetings Loyal Subjects,
If recent news has taught us anything, it's that things would be FAR simpler under the rule of a monarch. As part of a political experiment, Dr Sketchy's created such a scenario in which to immerse yourselves. We appointed a worthy Queen Regnant to rule the small body politic known as the Slipper Room for a few hours on April 7th 2013. As a sociological study, was it a success? We shall see. There certainly were no complaints during the "reign" of our model, who is none other than the illustrious artist and fashion designer Ms Reign Apiim and as any monarch worth their anointed status will do, she gave us an afternoon of great pomp and spectacle; provocative gowns, glittering accessories, and ostentatious headpieces that would make Queen Elizabeth II eat her husband's ascot.
I, Kat Mon Dieu have been appointed as the Royal Herald to report court events, which is a site better than the "Groom of the Stool" or "Eunuch". Can women be Eunuchs? I do not wish to ponder that too deeply. Photos by sovereign photographer, the Honorable Kate Black.
Part of being a Queen is to live each day in a state of near constant ritual. Royal personages are great patrons of the occult and divining arts. Their connection to otherworldly beings (as is their divine birthright) enables them to pick up inanimate objects and use them in the process of making important decisions...Here the Queen holds a chalice in one hand (for scrying the murky waters of destiny) and in the other hand she supports a rock of amethyst. (for insight and perception). It is good to get a second opinion no matter who you are.
Hmmm...you don't say....!
No! I cannot believe what I have seen in the murky waters of destiny...!
I shall consult the Amethyst...the stone of clarity!
Aha! I KNEW IT! The answer is....
...um...wait, what was the question?
Nevermind! I have had a dream! I know what I MUST DO!
Divine providence is not enough! I will reach for enlightenment that the continuance of my royal line of clothing, accessories and ostentatious headpieces is assured...
I must partake of the psychotropic flower from Archer IV to become the greatest Queen in the history of ALL Dr Sketchy's!
HM Apiim's loyal subjects are mesmerized by her power and although they barely comprehend the minutiae of such elaborate customs, they understand that when a Queen partakes of the sacred flower, it is for the benefit of her people...a sacrifice she must make upon her accession.
It is the custom of her court to draw her in her clothing designs from all angles.
A single line drawing while not taking their eyes off the model has resulted in a rendering true to form.
...by this subject of the realm! She has been granted the title of "Despot of Arta of the Uncommonwealth Sketchsylvania"...and she gets a Baby Tattoo Sketchbook!
Our Queen bestows a royal benediction upon her head.
After such exertion the Queen demands, "Now I will FEAST...bring me my SUPPER!"
"...and where is my ENTERTAINMENT?!"
"I am NOT amused."
"Well, maybe a little."
Except...
How dare you address HRH FLOWER in such an intimating manner? Do you not know the royal protocol? No? You have offended her majesty, however this is a kind ruler and will bear with your unconventional plebeian ways. But in the future address her flower as "Blossom of the Privy Chamber". It is imperative knowledge.
And to prove that we are an enlightened and forgiving monarchy, we will spare you the fate of the tower and give you a Squishable duck-billed platypus for your unborn child.
Awwww...twinnies!
...speaking of Privy Chambers, our Reigna has gone into hers. She must not be disturbed as she contemplates her vision. From the center of the black hole where she is suspended, she experiences higher wisdom. The flower-power has her in its thrall.
A trance that grips us all...what does she see?
What dream leaves you stripped of your vestments but not your virtue?
This one, apparently.
Sir Syd confiscates a drawing by a high treasoner, that would rob our Queen of her birthright to be naked...
Melissa proudly displays the opposing political party in this matter of boobies.
The point is...nipples are cool.
...even half a nipple is cooler than no nipples at all.
What fine blossoms for a fine Queen.
LONG LIVE THE QUEEN!
This experiment has been an absolute success. Now to revolutionize the rest of the country.
Much appreciation and kudos to Melissa, Syd, Yao, Kate, and Reign Apiim, herself; and all who made this royal treat of a Dr Sketchy's come to fulfill its destiny!!!
RSS
NYC Events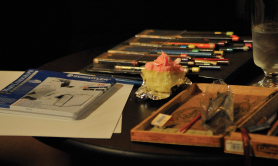 Art Tumblr