Branch Blog - Anaheim, CA
Sat, November 03, 2012 • SATURDAY, DEC 1ST - NERDGASM ^2: ALL DAY DRAWING EVENT RETURNS
It's that time again Art Monkeys!
Nerdgasm returns to the Rothick Art Haus!
For those who missed last year, this is a special All Day Figure Drawing Event hosted by the Rothick Art Haus. Join us as various models take the stage dressed as their favorite nerd fantasy characters.
In light of Disney's new acquisition and Rothick's location by the Magic Kingdom, this years theme will be the Sexy Side of Disney. Our main line up includes Lauren WK, Holly Feather, Phoebe L'amour, and Stephanie Shaw. With additional models possibly popping in here and there throughout the day.
There will be short and long pose sessions throughout the event Sketch Artists and Painters are encouraged to come!
So reserve your spot early as we bring you a cast of characters to inspire your artistic World of Color.
Date:
Saturday December 1st, 2012
11am to 10 pm
Cost:
$30 Pre-Pay (Now Closed)
$40 At Door
RSS
NYC Events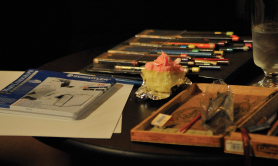 Art Tumblr
Dr Sketchy's LA 12/3/13 (pt. 1)
artofach.blogspot.com
http://drsketchy.tumblr.com/post/69132640329