Branch Blog - Edinburgh, UK
Wed, November 09, 2011 • Shichi-Go-San!
Konnichiwa! This month, we're celebrating Shichi-Go-San here at Dr Sketchy's and, with it, all things Japanese! The festival of Shichi-Go-San, or 'Seven-five-three' in English, is a traditional rite of passage for children aged three, five and seven (clue's in the name, folks), celebrating the move into middle childhood and the good fortune odd numbers bring in Japanese culture.
For Dr Sketchy Edinburgh, it's another reason to pair pencils with pasties, team Tempera with tassels and group glitter with... well, more glitter! We're also a bunch of very odd numbers indeed, so that must be lucky, right?
You might be a lot older than tradition dictates, but let us take you through your very own rite of artistic passage while our kawaii cutie Komachi transports you to the Land of the Rising Sun with a very special and traditional life-drawing session, just for you. So, whether you're a Sketchy's Samurai, or just beginning to blossom; kimono–ver to Dr Sketchy Edinburgh at The Jazz Bar this Sunday, November 13
th from 3pm til 6pm. Tickets are available on our website or you can pay on the door - adults £7 and concessions £6. Remember - we provide all the art materials you will need, but you are always welcome to BYO. Plus the fabulous people at Old Town Tattoo are providing some subarashi prizes for our crazy competitions! SUGOI! It'll be the teasiest, pleasiest, Japaneseiest drawing class you've ever bento!
With love from all the Sketchettes
Xx
RSS
NYC Events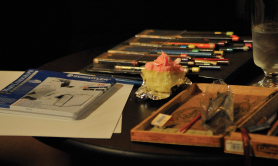 Art Tumblr
https://vimeo.com/81362468