Branch Blog - St. Louis, Missouri
Wed, July 13, 2011 • Sun, July 17, 2011 • 3:00pm - Dr. Sketchy's Backyard Beach Blanket BBQ Bash!!! (A tiki party:).
Dr. Sketchy's is back! For the past 3 years, the St. Louis branch of Dr. Sketchy's has brought you dames, drinks, drawing and debauchery every third Sunday of the month and after a nice June break, it's bigger, better and sketchier than ever! This month we're back with summer style for a Sketchy's unlike any other. Featuring indoor and outdoor modeling (that's right, we'll have lovely models in a pool! YES!) BBQ, drinks, prizes, games and so much more! Whether an art monkey, or art appreciator, this is one event you won't want to miss. With our featured model, the little mermaid herself, Mimi le Yu!
Themed tiki drinks and cocktails provided by Gogo McGregor! (we'll probably convince her to model too!) Beach blanket favorites with DJ Menace Dennis And your hostess in the teeny weeny bikini, Lola van Ella! Plus more surprises! At VanElla Studios 2646 Cherokee Sunday, July 17th For the low, low price of $8.00
RSS
NYC Events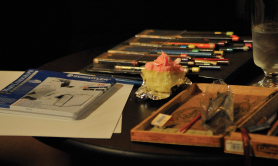 Art Tumblr