Branch Blog - St. Petersburg, FL
Wed, July 18, 2012 • Photos from Dr. Sketchy's St. Pete Does Dr. Seuss
Thank you to all the art monkeys who made it out for Dr. Sketchy's St. Pete's evening of Dr. Seuss! Sheina Fae was a fantastic model (and the sexiest Sneetch we've ever seen). We can't wait to see you next month!
Check out our photo section for some of our favorite shots of the evening.
Next month's event posting will be up soon, but mark the date on your calendar now - August 9th, we'll be at the Sake Bomb for a pinup beach party that you will not want to miss!
RSS
NYC Events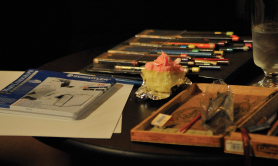 Art Tumblr
Dr Sketchy's LA 12/3/13 (pt. 1)
artofach.blogspot.com
http://drsketchy.tumblr.com/post/69132640329