Branch Blog - New York, NY
Tue, September 13, 2011 • The Mack of Zorro
Welcome back, Art Monkeys!
The New York branch of Dr. Sketchy's Anti-Art School is back in session after a long summer break and now the story can be told of the visit we recently had from a mysterious masked stranger. Who was this man who dressed in clothes as black as our stage's backdrop? Was he Johnny Cash? Anakin Skywalker? Will Smith? Nobody knows his true name, but for his foxiness, the locals call him "El Zorro," because Zorro is Spanish for fox, and in addition to art classes, some of the audience took Spanish as an elective. All we really know about this nameless desperado is that he was played by Shahriar Shadab and that he was accompanied by Mandy in the role of Elena Montero. They shared an affinity for swords and an aversion to clothing, which served them well in modeling for the session. Kate Black took photographs.
Zorro is also known as "The Curse of Capistrano." "Curse" because he has a mouth like a fucking sailor and "of Capistrano" because when birds return to him, they often swallow. Haha! I can work an oral sex joke into anything!
If sword fighting ended like this more often, I bet fencing would be a much more popular sport.
Here we see a depiction of Zorro's courageous battle against the evil governor Sarah Palin.
Here are some of the Mexican peasants that Zorro fearlessly defended. You can tell they're Mexican peasants by their distinctive mode of dress.
That's not where a hat goes!
The session was hosted by Foley and myself, which was appropriate, as I have been told that I look kind of Mexican.
The whip serves to remind everyone that, no, we are not above this sort of thing.
The grateful peasants paid tribute to Zorro with drawings of him valiantly getting laid in a nice hotel room.
As we see in these candid backstage shots, corsets are an essential implement in bringing about social justice.
Zorro openly defies the first lesson taught to him by his mentor Anthony Hopkins: Never bring a flower to a sword fight.
In this drawing by the lovely and talented Yao Xiao, we see Zorro practicing his fencing against the entire Dr. Sketchy's crew. As one would expect, Melissa was the only one with the forethought to bring a sword.
When his mask was removed, Zorro's secret was revealed: Shahriar Shadab was also portraying Alejandro Murrieta. Fortunately, the audience will have conveniently forgotten this by the next episode.
Ah, what a hardscrabble life the peasants must lead in the poverty-stricken Mexican village of... wait, where are they from? Los Angeles? Zorro is from L.A.?! Yes, I know it was part of Mexico at the time, but from the TV show and movies, I had figured he was from somewhere a little farther south. Damn you, Wikipedia.
His work being done, the mantle of Zorro was passed on by transferring the mask and the moustache.
Those are all the photographs we have. ¡Buenas noches a todos!
- Syd Bernstein
RSS
NYC Events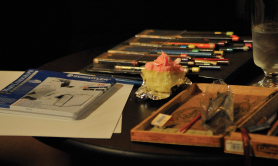 Art Tumblr
https://vimeo.com/81362468