Tue, March 26, 2013 • "Wednesday Knights" at the Philadelphia Museum of Art, Tribute to The Game of Thrones!
Dr. Sketchy's Philly will be putting on an amazing Game of Thrones themed session in the Arms and Armory Gallery tomorrow night! (7-8:30pm)
Meagan Rumberger and Jim Black will be portraying Daenerys Targaryen and Khal Drogo. Amy Houser is suiting up in a FULL suit of armor as Brienne of Tarth, Candy Mayhem representing the House of Stark as Catelyn and Jake Matthews as Jon Snow.
Resident Sketchy DJ John Burke will be providing the soundtrack for the evening!
This event is "Pay what you Wish!"
7-8:30pm
Sponsors Baby Tattoo Books, Sourpuss Clothing and Nicola Black Design will be providing amazing prizes for out sketching contests.

RSS
NYC Events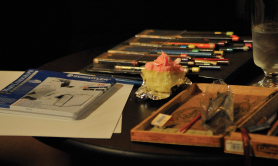 Art Tumblr