Dr. Sketchy's North Wales Titty Tassel T-shirts!
Your twirling titty tassel t-shirt is as sparkly as can be! Be a burlesque beauty every day, whether it's down the shops or walking the dog ~You too can look glamorous and give off some sassy sex appeal in these hand printed t-shirts.
This quality unisex t-shirt is manufactured by leading American brand Gildan. Made from 180 gsm 100% cotton, the fabric has been pre-shrunk to ensure reduced shrinkage and enhanced washing performance. Can be washed on a cool setting with little to no loss of sparkle.
Full care instructions will be sent with each purchase.
Brought to you by Dr. Sketchy's Anti-Art School North Wales.
Dr. Sketchy's Official Rainy Day Colouring Book
•by Molly Crabapple and John Leavitt
Sepulculture DIY Publishing
208 full colour pages, 5" x 8" - $20.00
•This Book Contains:
208 Pages. 11 Paper Dolls. 9 Colouring Book Pages. 6 Interviews. 1 Maze. 3 Word Puzzles. 1 Board Game. 7 Good Ideas. 4 Bad Ideas. 2 ways to make Invisible Ink. 9 drink recipies. 1 Evil Curse. 2 cut-out pasties. 68 new Molly Crabapple Illustrations. 17 John Leavitt Cartoons. 1 Fred Harper cartoon. 4 playlists. 1 false history. 2 accurate histories. 1 way to rule the world.
Limited Edition Art Monkey Print!
Limited edition giclee print of frolicking art monkeys. 13" x 19". signed and numbered by Molly Crabapple
Buy now at mollycrabapple.com
RSS
NYC Events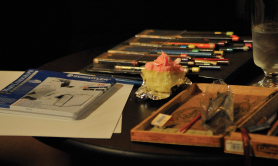 Art Tumblr
Dr Sketchy's LA 12/3/13 (pt. 1)
artofach.blogspot.com
http://drsketchy.tumblr.com/post/69132640329