Branch profile - Hobart, Tasmania
Dr. Sketchy's Hobart
•

Hobart, Tasmania

•

.(JavaScript must be enabled to view this email address)

•

Venue: Venue changes Please see event details
---
Tasmania's very own Sketchy branch is proudly brought to Hobart by 'The Diamonds of Burlesque' and is an exciting addition to Hobart's art scene!
A live art class with the added bonus of drinks, drawing and debauchery, it's where live art meets Burlesque cabaret.
What happens at Hobart's Dr Sketchy shows??
First… you buy your ticket! Very important as there are limited seats and it's important everyone has their creative space.
You turn up, sketch pad and pencils in hand, grab a drink, find your spot/s and wait for the shenanigans to begin!
'Miss Bebe Sparkle' (Owner of The Diamonds of Burlesque) is Hobart branches cheeky 'Head Mistress' who is there to introduce the model, announce the poses and times you for you sketching sessions throughout the fun filled evening.
The models are always Burlesque entertainers, sometimes there is only one model, other times more, but each show you can be guaranteed changes of glamorous and creative costuming, props and poses plus a couple of entertaining Burlesque acts to inspire your creativity even further.
The models are never nude, but can be daringly risqué as they are Burlesque (tease) artists after all!
There are prizes to be won in fun ways (sometimes not even for sketching at all!)
Expect to laugh and let your creativity flow onto that sketch pad.
The most fun you could have at a live art class, bring your friends… even if they can't sketch!
Some like to come and be entertained by watching the artists at work and the Burlesque shows, but everyone is welcome to give it a go, sketch stick figures… draw the chair or the drink in your hand, it's your class to sketch whatever you see (or don't see) it's up to your imagination!
I'ts time to get Sketchy!
Hobart Dr Sketchy license holder/Event Manager:
Bebe Sparkle/Bec Collins
.(JavaScript must be enabled to view this email address)
http://www.facebook.com/event.php?eid=163158917055056
mobile: 0439481959
Schedule of Upcoming events
RSS
NYC Events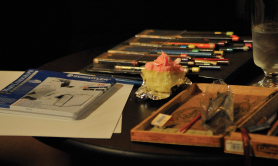 Art Tumblr
Dr Sketchy's LA 12/3/13 (pt. 1)
artofach.blogspot.com
http://drsketchy.tumblr.com/post/69132640329